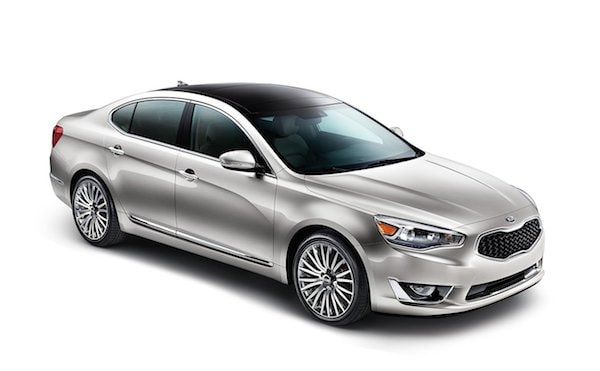 A classy, stylish car that comes packed with great safety capabilities and a whole slew of awesome features can be hard to come by… or was hard to come by until you found the 2015 Kia Candenza available near Lexington. When was the last time you were excited about a car? Cue all those feelings again at Jake Sweeney Kia, because you're about to relive that experience.
Performance
The 2015 Kia Cadenza comes complete with a 3.3 liter V6 engine to get you to where you need to go. Couple that with the Cadenza's 293 horsepower and 255 lb-ft of torque, and you're all set! No matter which trim you decide to go with, the Cadenza will dependably give you 19 miles per gallon in the city or 28 miles per gallon o the highway. A full tank of gas means 18.5 gallons of freedom to go wherever you want.
Exterior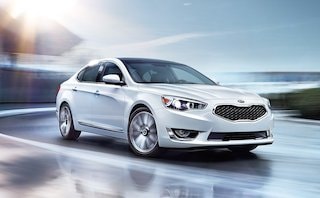 Aside from catching the eye of everyone in Lexington with your new Kia Cadenza, the vehicle also watching out for you while you're driving. Projection headlights with auto leveling mean the bulbs are constantly adjusting themselves to give you maximum visibility, while hydrophobic windows make seeing the rain or snow much easier. The windows also have a solar control built in to them, so while you'll be leaving your car out in the sun all day, the interior won't be quite as hot. Top all that off with power folding mirrors and you've got brains and beauty all in one package.
Interior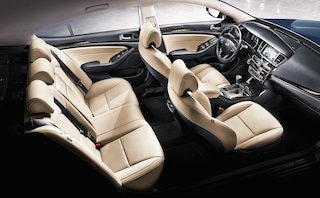 Leather seat trim and an option 12-way adjustable driver's seat with power lumbar support make discomfort and being even slightly unfashionable not an option. Program the most comfortable position for yourself into the Integrated Memory System for the driver's site and make sure your hands stay warm in the winter with the heated driver's seat. Speaking of fashionable, deck the interior of your Cadenza out with the standard wood interior accents, or go for a little extra with the optional chrome accent!
Technology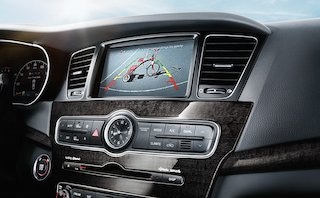 To say the Kia Cadenza comes packed with great features and an awesome sound system is a little bit of an understatement. Listen to your favorite music though the 12-speaker Infinity 550 watt surround sound audio system. You can choose to find your favorite songs on Sirius XM Radio that comes with the vehicle, sync your devices with the car's Bluetooth capabilities or even hook up your phone or iPod through the aux-in port.
Safety
You'll feel safe cruising through Lexington in your new 2015 Kia Cadenza. The vehicle comes with a rear-camera display system, surround view monitor and the option to include Advanced Smart Cruise Control, Lane Departure Warning System, Blind-Spot Detection Systems and Rear Cross Traffic Alert as well!
Contact us here with any questions or concerns, or give us a call at (888) 815-6280.